Monastrell: eating, tasting and enjoying in Alicante
Gastronomía
Restaurante Monastrell
Tel. 965 146 575
Tel. 965 200 363
Offer description:
The kitchen of the Monastrell restaurant in Alicante, led by María José San Román, is immediately recognisable for its quality, its use of local products and, especially, for its excellent cooking. For all these reasons, Monastrell offers perfect and innovative Mediterranean cuisine.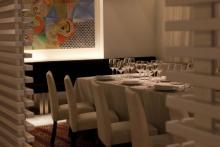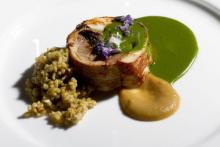 Exceptional, fresh and Mediterranean snacks, innovative menus to suit even the most discriminating palates, and, of course, the Monastrell squid sandwich, are here to delight its patrons. Quality, closeness and variety are the three governing principles of a restaurant that leaves no-one indifferent.
Prices and more offers:
Beyond its extensive menu, the restaurant also offers two set menus. The first, a tasting menu with six dishes to choose freely, costs 65 euros. The second, the María José San Román menu, is a selection by the chef herself, which costs 49 euros. Tapas such as red shrimp from Dénia, salted anchovies or María José San Román's diced vegetable salad, as well as cocas, chapatitas (small sandwiches), salads and vegetables are available every day at Monastrell Barra, from 12 P.M. to 12 A.M. You can also enjoy a full five-course menu with dessert for 29 euros, and have some of the best rice, meat and fish. Monastrell Barra also has an ample variety of cocktails mixed by master Gegam Kazarian.
Start date: 11/11/2013
End date: 12/01/2014