La Cañada discovers us the Restaurant Al Grano
Gastronomía, ocio y diversión
Restaurante Al Grano
961323233
Offer description:
Al Grano makes a bet by the traditional kitchen, learnt from parents and grandparents, joined to the avant-garde and the flavours from the world. This is a must place for the lovers of the Mediterranean gastronomy.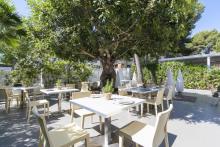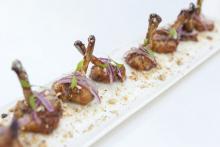 In La Cañada-Paterna, you can find the Restaurant Al Grano, specialists in Valencian tapas and dishes with rice in a calm and caring environment, quality in the way they treat customers and in the ingredients. The terraces, with carobs and centenarian pines, are the essential element of this new project of Carles López Revert. In them any type of event will be unforgettable.
His kitchen is based upon the Mediterranean product coming from local markets and therefore in the menu we can point out preparations like the ajoarriero from the sea or the 'esgarraet' to the flame with 'capellà' and glass-bread. Although they are specialists in rice like the paella Valencian, they offer meats like the cochinillo D.O. Segovia cooked to low temperature, accompanied of purée of potato and compote of apple. Or fishes, brought each day from the market. Some weeks ago, they picked the first mushrooms "rossinyol" of the season for his rice with quail. Irresistible!
To close the experience, the temptation of the mille-feuille of apple with ice cream of cookie maría, the French-toast with passion fruit ice cream or if you have a sweet tooth the chocolate mousse with crumble of cookie oreo and chocolate ice cream.
Formed in the CdT of Valencia and the Basque Culinary Center, Carles López Revert, has gone through restaurants like the Chalet de Montjüic in Barcelona, Josep Quintana, Levante Valencia and the Kitchen of Zuberoa to the orders of Hilario Arbelaitz. He has also leaded the kitchens of the Macel.lum in Valencia and Viento Sur in San Sebastián.
Optional services:
The zone of La Canyada is a zone in Paterna which was an ancient crossroad for livestock between the numerous conifers which life in the zone. Covered, largely, by farming lands, the municipality of Paterna will offer you the calm and the traditions of a simple way of living.