Hotel Masía Durbá
Turismo rural, gastronomía, ecoturismo, turismo cultural, ocio y diversión
Segment:

Genérico
Senior
Familias
Parejas
Offer description:
In an exceptional among between the natural parks of the sierras of Espadán and Calderona and a few metres away from the river Palancia, La Masía Durbá is waiting for us. The tranquillity of a monastery and all the fantasies of the 'Asian luxury'.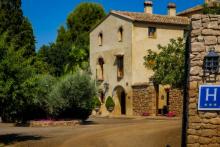 Masía Durbá is a building from the XVIIIth Century settled on the remains of a roman villa that chairs a finca rural of 23 hectares planted with almond trees and carobs. The refurbishing has taken out to the light its impressive beauty.
If our want to escape from the maelstrom of the city searching for delicate experiences, almost oneiric, which mean a true escape and a re-creation for the soul, Masía Durbá is the perfect destination.
In the rooms, the theca, the tamarind, the rosewood or the acacia, alternate with marbles and natural stones brought from orient in a carefully designed decoration with colonial pieces of furniture, in oriental style, and with authentic antiquities from India or Java. The hotel consists of ten rooms and the restaurant, surrounding the cloister patio, supposes a glorious staging to present the dishes prepared daily in the kitchen of the masia. The personal touch, of author, stands out, but without shelving traditional recipes like the rice typical from this land and the meats to the brass. At night or while you wait for dusk, the patio constitutes the perfect frame for cocktails and romantic dinners.
Optional services:
Castellnovo is a small municipality of Castellón, with narrow streets, of Moorish flavour, whose names remind us its Arab past. It chairs the municipality the Castle of Castellnovo or of Beatriz of Borja, declared Well of Cultural Interest, of roman origin and which was restored by the Moors.