Luxurious Rest in Hotel Mañet in Moraira
Playas y calas, actividades náuticas, gastronomía, ciudades, ocio y diversión
Segment:

Genérico
Senior
Parejas
Familias
Offer description:
The Hotel Mañet recovers after a break; it has long been a referent establishment in the beach of the Portet and in the municipality of Moraira. Please, do come in and enjoy!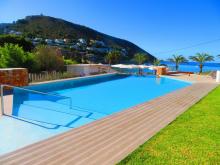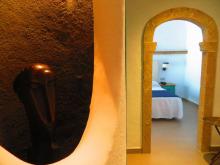 There are places which enclose fantastic histories which are disclosed when spaces are recovered, due to a professional and affectionate development. The Hotel Mañet is situated in the lovely municipality of Moraira; it was a country house of the 19th century with long familiar tradition. It offers 9 double rooms fully equipped and each of them with its own style and decoration. You can feel the really friendly and relaxing atmosphere, the perfect place where to rest and enjoy a pleasant staying close to the Mediterranean seashore.
The Hotel Mañet has a restaurant with a varied offer. Market based kitchen with Mediterranean gastronomy grounds where the quality of the product prevails, fresh products from the local markets and seasonal products. You can choose among a selection of wines, with denominations of origin from Alicante, Utiel Requena, Rioja and Ribera de Duero. Besides, the views over the swimming pool, from the impressive terrace will leave you breathless. Why don't you come to this small paradise?
Optional services:
Moraira And Teulada, two urban towns and a luxury for the travellers. Double pleasure in this destination which offers impressive beaches, an interesting historical town centre, great quality wines and a peculiar fish auction. Those are some of the appeals they offer; we let you discover the rest of them.