Market cuisine and art at Al Óleo restaurant
Gastronomía
Restaurante Al Oleo
965 16 26 31 /
Offer description:
There exists a place where to enjoy an excellent market cuisine and some of the best fresh local products without big expenses. It is in Alicante. Different rice preparations, soups and broths, fresh fish coming from La Vila fish market, select high-quality meat, mussels with curry and "aliñao" tomato blossom with Andalusian-style squids are some of the most delicious preparations that can be sampled at Al Óleo restaurant.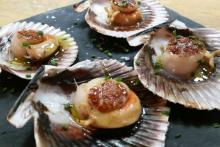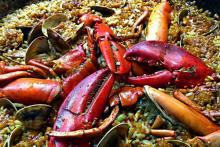 There is some secrecy about the restaurant's name. At Al Óleo, the art of its dishes is mixed with exhibitions by different artists from Alicante. The after-dinner talk sounds promising in its wide terrace located 75 metres (around 80 yards) away from San Juan beach.

San Juan beach will catch your eye due to its fine sand and transparent water. Almost three kilometres (almost two miles) for feeling the sea breeze and relaxing at sunset or practising sport at the end of the day. Nightime in this enclave is one of its biggest attractions because of the widely varied nightlife it offers.

Art, gastronomy and sunrays. Live the Mediterranean to the fullest!