Casa Garrido, between culture and adventure
Turismo rural, turismo activo, ocio y diversión
Casa Rural Garrido
+34 630 924 149
Offer description:
Concerts, expositions, wine tastings, hiking or good food; Casa Garrido, in Ademuz, allows you to enjoy the finest things in life. Whether you like adventure or culture, food or wine, Casa Garrido is bound to please.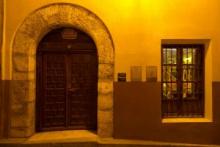 The Garrido Rural House was born as a consequence of the creation of Ademuz Aventura, a company that organises activities such as climbing, mountain biking, canoeing, horseback riding, hiking or archery. To this purpose, an 18th century house at the centre of Ademuz was restored and inaugurated in the late 20th century. Casa Garrido, located in the historical quarter of Ademuz, was originally built in 1750. It has seven rooms, all of which include a bathroom, as well as central heating, a dining room, a laundry room and a chimney.
Prices and more offers:
Furthermore, the house allows you to enjoy the best local gastronomy has to offer, especially in what concerns pork-based products. Some of the most iconic dishes include the Cocido de Ana, the Empedrao, the local town stew, beans with pork snout, lamb shoulder, grilled meat, or ribs with potatoes. Furthermore, cultural activities and events have been carried out there, such as Painting expositions by the students of the faculty of Fine Arts, musical concerts by the pupils of the Music Conservatory of the Polytechnic University, Greek chats and wine tastings.
Start date: 02/12/2013
End date: 15/01/2014