Offer description:
If you are planning to spend a few days away from normal life and want to get in contact with nature, Sale Gaeta Rural is your perfect accommodation in the province of Valencia.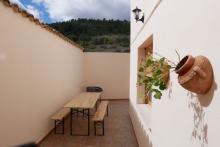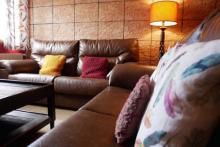 Venta Gaeta Rural [3] is a house designed for full rental with family, friends or colleagues to spend a different day in the countryside. Five spacious double rooms make up the available bedrooms and each of them with its own private bathroom. They offer you the possibility of including a cot and up to two extra beds, with a total capacity up to 12 people.
In addition to the indispensable kitchen, the rural house has an outdoor terrace where you can enjoy the good weather and barbecue-paellero to prepare a good meal in the open air.Thinking about the little ones, in Venta Gaeta you can also find different games and a children's area.In summer, they offer free access to a swimming pool located very close.There are numerous hiking trails and different excursions available in the surroundings of the cottage.
Optional services:
In Cortes de Pallás [4], one hour away from Valencia, nature is at its pure state.The river Jucar runs through the municipality with crystal clear waters and the town has become an ideal point to host all kinds of adventure activities such as canyoning, hiking or mountaineering.The town retains its essence from the past, with narrow streets and unique architecture.The landscape of Cortes de Pallás is dominated by its great Muela (rocky place).Disconnect from the daily routine and breathe fresh air in one of the most beautiful areas of the province of Valencia!