Museo Etnológico de Enguera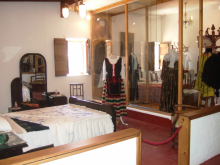 Located on the premises of the Manuel Tolsá House of Culture in Enguera, it currently features several museum collections.
This is the typical house from Enguera
With the intention of integrating museum objects in an exhibition context as close as possible to its original environment, this is a faithful reproduction of a house and a typical square in Enguera, within which there are represented various time periods ranging from the end of the nineteenth century to the beginning of the second half of the twentieth.
Enguera, industrial town
It is a journey through the history of the textile sector in the town, from the eighteenth to the twenty-first centuries, a journey from the first documented steps of the textile industry of Enguera, to the present.
Enguera and its agricultural past
Space dedicated to exhibiting those agricultural tasks which, through the centuries, the men and women from Enguera developed for their survival. Although this is a very wide field, here there are collected the most significant, or at least those which have mostly influenced their economy: vine, honey, cereals and olives.
Vintage Photography Archive
This collection aims to collect all the pictures from the past: places, people and social environments that somehow contributed to writing the history of Enguera.
Features:

Times: Monday to Friday from 11h am to 1h pm and from 4h to 8h pm. Sunday from 12.30 am to 2h pm.
Type: Museo Etnológico