Casa Museo José Segrelles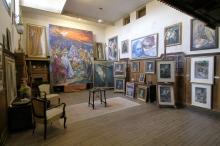 The House-Museum of José Segrelles is in the vicinity of the Palace and the Arch-priest Church. It is located in a narrow alley which overlooks the square of the Segrelles Painter. The house was designed and built by him in 1943. The decoration of a big part of the house with Arab motifs was an idea of ​​the painter, and it remains the same as when he lived there (1885-1969).
Throughout the house you can discover how Segrelles lived and what his universe was: how he painted, what he did daily, the books he read, the music he listened to... There are more than 150 original works of the painter in these rooms. Among them, the illustrations for novels of Vicente Blasco Ibanez, for stories of 'The Arabian Nights', for 'Don Quixote' and his posthumous work 'Pentecost' are the main highlights. The library, with about 12,000 books, is also of extraordinary importance.
Features:

Times: Opening hours: From January 1 to June 15 and from September 16 to December 31: Tuesday to Saturday, from 10h am to 1h pm and from 4.30h pm to 6.30pm; Sundays and holidays from 10h am to 1h pm. From June 16 to September 15: Tuesday to Saturday from 10h am to 2h pm. Sundays, holidays and Mondays, closed. Groups and schools should arrange a visit in advance.
Type: Museo
Address:

Plaza Pintor Segrelles, 13
Phone numbers: