Museo de la Colegiata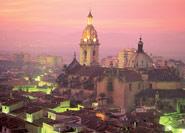 The Collegiate Museum has an important collection of Sacred Art, and is an example of the historical and religious importance that the municipality has had. Pictorial pieces exhibited are the altarpieces of Santa Elena and San Sebastián, Santa Ana and Pope Calixto III. Religious objects include "la Cruz Mayor" from the XIV century, the Chalice of Calixto III, the "Lignum Crucis" and a "custodia" from the XV century in gilt silver, a present from Pope Borja Alejandro VI.
Features:

Times: Winter: From Monday until Sunday of 10:30 to 13h.