Bodega Redonda. Wine Museum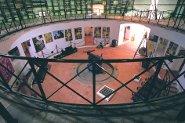 The facilities were set up with the aim of paying homage to one of the main economic activities of Utiel; wine growing. In the same building one finds the Bodega Redonda and the headquarters of the Regulatory Council of the Denominación de Origen Utiel-Requena. The centre displays all the aspects relating to the wine producing industry with the wine brands pertaining to the denominación. One can also visit a collection of equipment used for the production of wine in years gone by. The property in which the exhibition is housed also has great architectural value.
Features:

Times: Monday to Friday: 9am to 2pm.