Casa Mayans. Museu de la Il.lustració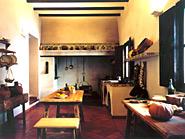 The Museum preserves the structure of Gregorio Mayans original home, keeping each of the rooms such as the kitchen, the dining room, the library or the bedrooms of the house and the chattels that have remained of the epoch. The centre also offers a documentary projection lasting a few minutes on the figure of Mayans and his epoch.
Features:

Times: Tuesday to Saturday: 10 to 13.30h and 17 to 20h. Sundays: 10 to 14h.
Address:

Calle Major,10
Phone numbers:
Fax: 962897722