Els Filtres Exhibition Centre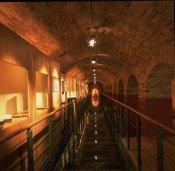 Situated in a subterranean building integrated into the eastern limit of the park. The building is made up of two domed bodies, the modern intervention respecting to the maximum the original building, built in 1850 it was designed for the filtration of the water. It shelters itinerant exhibitions of all kinds, principally handcrafts.
Features:

Times: Monday to Friday, 10.00-13:30 and 17.00-20.00h. Saturdays, 10.00-14.00 h.
Address:

Avenida de los Tranvías, 19