Municipal history and archaeology museum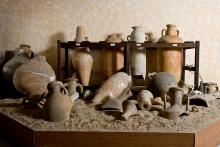 The "Cueva del Volcan" of the Beacon is the enclave that provided most of the funds contributed to this museum. The collection exhibits prehistoric remains discovered throughout the region.
Features:

Times: Winter: Tuesday to Sunday 9 to 13:30h and from 18 to 20h. Summer: Tuesday to Sunday 10:30 to 13h and 18:30 to 20:30h.