The Reyes Magos Park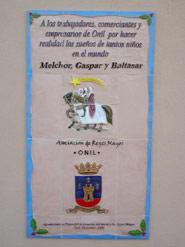 The beautiful "Mural-monument to the toys and dolls of always that the
Reyes Magos
(Three Wise Men; the equivalent of Father Christmas) have donated to the town of Onil in recognition of the workers, traders and businessmen of this enterprising town" is located in this welcoming park. SS.MM.
Los Reyes Magos de Oriente
(are welcomed in this park every "mágica Noche de Reyes" (magical Night of Kings i.e. Epiphany) on the 5th January when they arrive in Onil. This is the perfect park for resting and for enjoying the peace and quiet in.
Address:

Entre la avenida de la Constitución y las calles Santa Ana y Maestro Serrano.