Parque Municipal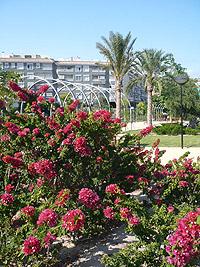 The new green area of ​​El Campello, located in the city centre, has many attractions for the public, both decorative and landscape, favourable to becoming the preferred area of ​​leisure and family entertainment. Among other qualities, the Municipal Park features a computerized and integrated irrigation field system, which means a significant saving of water and a system control.
The Municipal Park has 32,000 square meters and its opening hours are from 8h am to midnight (except the fountain area, which closes at 10h pm). It features a cafeteria, kiosk, playground for children of different ages, and toilets.
The main entrances are through streets Consolat del Mar and Baptista Basset Ramos. To reinforce the security, the perimeter of the park is surrounded with a decorative iron fence.
Address:

Los accesos principales se encuentran en las calles Consolat del Mar y Baptista Basset Ramos.