The Prince Felipe Science Museum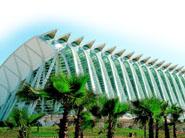 Science, technology and avant-garde architecture are just some of the elements on show in this museum that forms part of the City of Arts and Science. Its 42,000 square metres are divided into different scientific areas such as physics, biology and the new technologies, and all this in a building that has been conceived on a massive scale. All of its northern façade is made of clear glass, whilst its southern one is of opaque glass. Inside, its different areas are distributed by means of suspended platforms which give the building a very special layout image over its five storeys. One of the buildings most emblematic areas is the Auditorium, which has become the meeting-place for discussing and developing all those topics related to science and technology.
Features:

Times: Winter : Monday to Thursday from 10.00 to 18.00 . From Friday to Sunday , from 10.00 to 19.00 h . Summer : Monday to Sunday from 10.00 to 21.00 .