The house of Las Rocas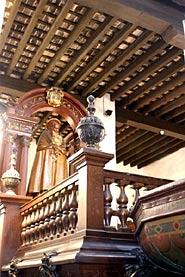 This building dates from XVcentury and it was here that the carriages and other items used in the Corpus procession were kept. A 25-minute long video is shown here these days which covers the "Corpus" festivity in Valencia, with carriage-floats of the Ark of the Covenant, giants and giant puppets and the "Las Rocas" , all of which take part in the procession.
Features:

Times: - From Tuesday to Saturday, 9.30 to 14.00 and 15 to 19.00. - Sundays and holidays from 9.30 to 15.00.
Address:

Calle Las Rocas,3
Phone numbers: