The Historical Museum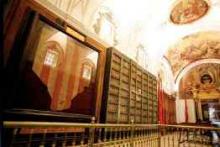 Many important documents are kept here, including the ancient manuscript of the Furs and the Book of the Consolat del Mar, the Royal Senyera and the Penó of the Reconquest. There is also an exhibition of the flags of the mediaeval guilds, a fragment of the carved ceiling from the old Town Hall and different items of silverware.
Features:

Times: Mondays to Fridays : 8.30a.m. to 2.30p.m.