THE FALLAS (BONFIRES) ARTISTS' MUSEUM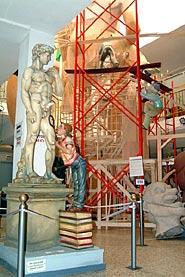 The Fallas Artists' Guild Museum is where all of the "ninots" (cardboard and wooden figures) which have been "spared" i.e. not burnt, over the last several years of this feast-day of San José are kept. It is the artists themselves who choose each "ninot", such that the collection one can see are those figures of greatest artistic recognition. The museum' s exhibits also include photographs of the Fallas festivities going back to 1902, mock-ups of the best monumental figures and traditional costumes. A video is also shown while one is visiting, demonstrating the production process of a "falla".
Features:

Times: Mondays to Fridays: 10a.m. to 2p.m. and 4p.m. to 7p.m. Saturdays: 10a.m. to 2p.m.
Address:

Avda. San José Artesano, 17
Phone numbers: