The City Museum- Marquis De Campo Mansion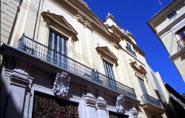 Part of the city's historical wealth is to be found here (opposite the Archbishop' s Palace in a very privileged enclave) in the former Marquis de Campo Mansion. On show is an interesting collection of archaeological items from the Roman, Visigoth and Moorish periods. Pride of place goes to the city' s collection of weights and measures. The permanent exhibition "Christian Valencia of XIII and XIV centuries" can be seen here and short-term exhibitions are also held.
Features:

Times: Tuesdays to Saturdays : 9.30a.m. to 2p.m. and 4.30p.m. to 8p.m. Sundays and Holidays : 9.30a.m. to 2p.m.
Address:

Plaza del Arzobispo, 3 (Frente al Palacio Arzobispal)
Phone numbers:
Fax: +34 963 529 634