The Birth House of San Vicente Ferrer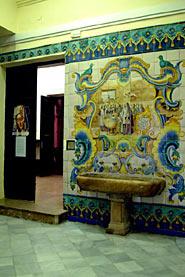 What was San Vicente Ferrer's room is maintained as it was, in which an altar-piece by Vicente López can be seen . The saint's miracles, the chapel and the fountain are just some of the things the house offers, with the miraculous well drawing the most attention. Tradition has it that it helped to combat the cholera epidemic of 1854, as the jars filled with water here went to quench the thirst of the people of Valencia.
Features:

Times: Mondays to Fridays : 10a.m. to 1p.m. and 4.30p.m. to 8.30p.m.
Address:

Calle Pouet de San Vicent,1
Phone numbers:
Fax: +34 963 528 481