Museum of Archaeology and History of Elche (MAHE)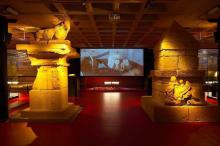 The Lord's Fortress or Altamira Palace was part of the old wall of the city. It was also the residence for the lords of the city between the 15th and the 19th centuries. The Archaeological and History Museum of Elche (MAHE) is situated indoors the fortress. The prime objective of the MAHE is showing the evolution of Elche, its territories and the communities that lived in. A combination of texts, computer-applied and audiovisual aids enables the museum to offer a comprehensive, attractive and enjoyable approach to the city's history.
Features:

Times: Monday to Saturday: 10 to 18. Sundays and festivities: 10 to 15. 25th December and 1st January closed.