Museo Alcoyano de la Fiesta (MAF)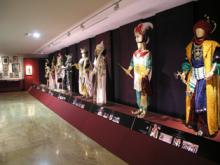 This is a new museum of the Alcoy Moors and Christians Fiestas for a greater interpretation of the fiesta of International Tourist Interest. Divided into three different floors that encompass music, posters or billboarding, the story of San Jorge (Saint George), the festive Trilogy and the festive world.
Features:

Times: From Tuesday to Saturday from10am to 2pm and from 4 to 7pm. Sundays from 11am to 2pm.