The Bullfighting (Taurino) Museum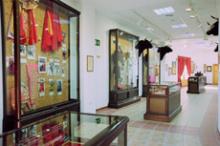 Costumes, posters and capes are just a few of the items to be found in this museum ; the largest of bulls' heads are also on display, as well as pieces of sculpture of all those involved.
Features:

Times: Tuesday to Friday from 10.30 to 13.30 and from 17.00 to 20.00 h . Saturday from 10.30 to 13.30 . Sundays , Mondays and holidays closed. In late summer schedule it is from 18:00 to 21:00 h .