Manises
Towns and cities - València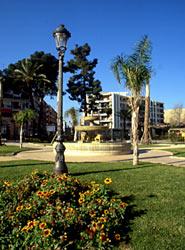 On the right hand bank of the river Turia, on a small hill, extends Manises, cradle to the production of artistic ceramics. Patience and imagination are two of the virtues that can be contemplated in each and every one of the laborious pieces the maniseros produce. Along with traditions, history, and an urban nucleus replete with beautiful architecture, their biggest and best claim, are their ceramics.
Address:

Ayuntamiento de Manises
Plaça del Castell, 1
46940
Manises
Phone numbers:
Fax: +34 961 520 453
Area: L'Horta
Touristic area: València
Altitude: 56
How to get here:

Access to the town is made via the A3 Madrid-Valencia road, which has an access to Manises, the town which hosts the Valencia airport. Also coming from Alicante, the town is accessed through the by-pass. Coming from Castellon, you should take the exit "Airport-Manises".