Canet d'En Berenguer
Towns and cities - València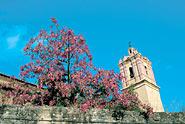 Situated at the mouth of the Palancia River, Canet presents orange and blue as its borders. The orange comes from the fruit, the areas chief crop, the orange trees, and the blue from the Mediterranean Sea, of the local beach. The Mediterranean image is repeated in the old quarter with red roofs and green interior patios that contrast with the whiteness of the facades. The spectacular view makes it a popular holiday destination.
Address:

Ayuntamiento de Canet d'En Berenguer
Plaza del Ayuntamiento, 1
46529
Canet d'En Berenguer
Phone numbers:
Area: El Camp de Morvedre
Touristic area: València
Altitude: 8
How to get here:

The autopista A-7, which links Alicante, Valencia and Barcelona joins the carretera nacional N-340, from which you can access the town via the VV-7015. The Carretera Nacional 234 (Sagunto-Burgos) also joins the nacional N-340 off Sagunto.