Calles
Towns and cities - València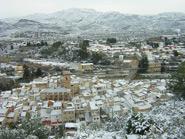 Calles is a picturesque town situated at 60 kilometres from Valencia. It is crossed by two rivers: the Turia and the Chelva or Tuéjar. The original settlement of Calles, rises up on a rock, which is elevated some metres over the bottom of the valley, characterised by its street layout full of twists and turns, reminiscent of the Moors, and which still retains a good part of its traditional appearance. In the municipal district itself one can find one of the main Roman remains of the Region of Valencia: the Aqueduct of Peña Cortada. Calles is a magnificent place in which to rest throughout the whole year and to enjoy the peace and tranquillity that this mountain town has to offer.
Address:

Ayuntamiento de Calles
Plaza del Mesón, 1
46175
Calles
Phone numbers:
Fax: +34 96 210 09 61
Area: La Serranía
Touristic area: València
Altitude: 320
How to get here:
To reach the town of Calles leave Valencia along the CV- 35, more commonly known as the Ademuz Road. The distance between the two urban centres is some 67 kilometres.