Albaida
Towns and cities - València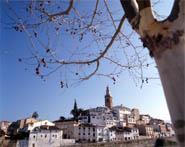 The name Albaida comes from the Arabic word "Al-Bayda", meaning "The White One", probably because of the colour throughout the soil of most of the area. It is halfway between Valencia and Alicante, and only 35 kilometres from the coast.
It was granted the status of City in 1906 by King Alfonso 13th and was declared to be a tourist attraction in 2002 as a result of its interesting historic-artistic monuments and museums. The mediaeval old town contains the 15th century Iglesia de Nª Señora de la Asunción church, the Milà i Aragó Marquisate Palace and several museums, including the International Puppet Museum (MITA), the José Segrelles House Museum and the permanent Nativity Scene and Diorama Museum.
Address:

Ayuntamiento de Albaida
Plaça Major, 7
46860
Albaida
Phone numbers:
Area: La Vall d'Albaida
Touristic area: València
Altitude: 323
How to get here:
Access to the municipality is found at the crossing of the 320 regional road, Ontinyent to Grau de Ganda, and Xtiva 's main road to Alcoi and Alicante. The locality also has a railway station and a bus service.