Xaló/Jalón
Towns and cities - Alicante Costa Blanca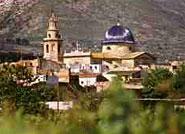 Located in the beautiful Pop valley, as the only exception in a rough terrain, is Xaló. Its township spreads between the Sierra de la Solana and the Sierra de Bèrnia, on the boundary of the Marina Baixa. Although the urban nucleus is fully situated in a valley the majority of the municipal term is spread among the mountains, the highest of which is the Serra de Bèrnia. Other peaks are the Solana, the Sierra del Ferrer and the Penyó de la Mica. Between mountains and caves, it is a municipality that has adapted to the conditions imposed upon it throughout history. Today it sits happily, shining and laborious between modernity and tradition. Always welcoming visitors who come from all around to visit the village of Xaló/Jalón, especially on Saturdays when, next to the river Xaló, one of the most popular antique markets of the Costa Blanca is held.
Address:

Ayuntamiento de Xaló
Calle de l'Església, 27
03727
Xaló/Jalón
Phone numbers:
Fax: +34 966 480 202
Area: La Marina Alta
Touristic area: Alicante Costa Blanca
Altitude: 189
How to get here:

From the N-332, the best access to the locality is via the following main roads: Benissa-Xaló CV-750, Benissa-Llíber-Xaló CV-745.