Torrevieja
Towns and cities - Alicante Costa Blanca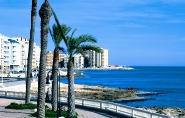 Amongst lagoons, on a great plain, Torrevieja is located, a destination of great importance. The current municipality grew next to a tower (Torre), the old one (la Vieja), which gave it its name along with some natural characteristics that have marked its history and its daily life. The area boasts some splendid beaches, with which it has developed its tourist capacity in combination with its seafaring and salt-making tradition. Today, also, the production of Salt, one of the main European producers, has a competitor in international recognition, the Cuban dances and its International contest, declared as being of International tourist interest, which celebrates in homage to the "Torrevejeneses" that traded with Cuba, colony from which they brought these melodies.
Address:

Ayuntamiento de Torrevieja
Plaza de la Constitución, 5
03180
Torrevieja
Phone numbers:
Area: La Vega Baja / El Baix Segura
Touristic area: Alicante Costa Blanca
Altitude: 7
How to get here:

The most direct access to Torrevieja is taking the N-332.