Gata de Gorgos
Towns and cities - Alicante Costa Blanca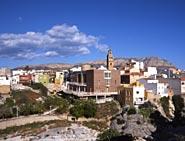 Gata de Gorgos is described as being the bazaar of the Costa Blanca, a municipality of whitewashed houses, offering the purest of Mediterranean environments , receiving its name from the river that bathes it. Tradition lives in Gata, which has been able to overcome adversities, extracting profit from them and without leaving to one side its traditionalactivities: Agriculture and the handicrafts of esparto and wicker. Baskets, furniture, hats, everything is possible at the hands of the craftsmen, who have turned the tradition into a source of wealth.
Address:

Ayuntamiento de Gata de Gorgos
Duquesa de Almodóvar, 3
03740
Gata de Gorgos
Phone numbers:
Fax: +34 965 75 66 35
Area: La Marina Alta
Touristic area: Alicante Costa Blanca
Altitude: 80
How to get here:

The A-7, at exit number 62 to Ondara or no 63 to Benissa. The National 332, which goes between Javea and Dénia, crosses the population.