Elx/Elche
Towns and cities - Alicante Costa Blanca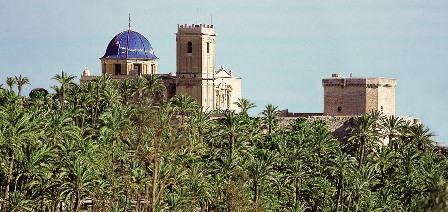 The flat plains of Vinalopó have one exceptional city. A select group exists in the world, formed by cities that hold more than one recognised Treasure to humanity. Elx is part of this collective. However, the Palmeral and the Misteri, in all their greatness, beauty and originality, don't stand alone. The city accompanies its treasures, exalting its' two thousand year history, combining modernity with dynamism. Ilicitanos (Elx inhabitants) conserve the natural coastline, which closes an imaginary circle that makes up the territory.
Address:

Ayuntamiento de Elche
Plaça de Baix, 1
03202
Elx/Elche
Phone numbers:
Area: El Baix Vinalopó
Touristic area: Alicante Costa Blanca
Altitude: 86
How to get here:

The N-340 has direct access to Elx, you can also arrive by taking the A-7 motorway exiting at any one of the three marked exits. Elx has a train station and the international Alicante-Elche airport is only 9 kilometres away.