El Verger
Towns and cities - Alicante Costa Blanca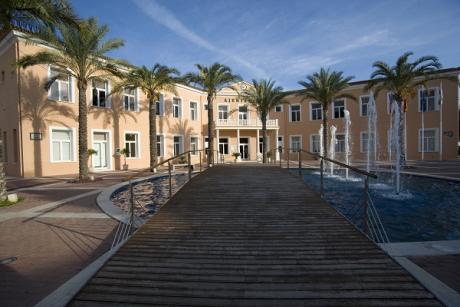 The Verger is northeast of the province of Alicante, is a small municipal area of ​​8.16 km2 occupies part of the Girona river delta that forms a large area of ​​irrigation specializing in citrus. North of the town is the mountain Segaria of 6 km long, shady area while the Valley of rhetoric located in the south. If we want to enjoy beautiful views, climb the trail that climbs to the summit of 506 meters. It is a rugged area known as Red Penya takes its name from the characteristic red color of it. We should not overlook the distinctive look human face profile that owns the mountain. 

Most of his term is devoted to irrigated farming primarily vegetables and oranges. The service sector, especially construction of housing estates, has boosted the economy of this town and its tourism development, food industry other significant economic activities of the municipality. 

Being a town of Arab origin according to his story that kept its people after the Christian conquest in the hands of the troops of Jaime I of Aragon after the expulsion of the Moors in 1609.Sus streets are narrow, in the heart of town you can visit Parish Church of Mare de Deu del Roser neoclassical style, its bell tower is one of the most distinctive and beloved buildings in the town, restored in 1997 by the citizens themselves. The clock's bell is in charge of marking the hours, with the characteristic sound of his singular campaign, called "hours", the bell tower has 4 bells in his body, though most of them the so-called "gross" or "Virgin of the Rosary" which weighs almost 500 kg., Torre del Palacio del Duque de Medinaceli is situated opposite the Church of the Virgen del Rosario, and now there is the tourist office. 

Under the medieval tower of Arab origin cremadillos XI and XII century is situated in the rural area of ​​cremadillos building of architectural interest.
Address:

Ayuntamiento de El Verger
Calle Cervantes, 10
03770
El Verger
Phone numbers:
Fax: +34 966 439 896
Area: La Marina Alta
Touristic area: Alicante Costa Blanca
How to get here:
ACCESS: Access to the town by road from Alicante via the N-332 or Highway of the Mediterranean, its output Ondara