Cocentaina
Towns and cities - Alicante Costa Blanca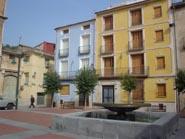 Cocentaina, capital of the Region of ELComptat is a town comprising 52 square kilometres, located near the Serra Mariola mountains Natural Park. Inhabited since the prehistoric era, it was not until Muslim times that it became an important administrative region. There are irrigated lands at the basin of the Serpis river, semi-arid crops, olive and almond trees mainly. The economy is driven by the textile industry and the service sectors. In the town, buildings such as the Palace, the castle or the old walls are maintained.
Address:

Ayuntamiento de Cocentaina
Plaza de la Vila, 1
03820
Cocentaina
Phone numbers:
Area: El Comtat
Touristic area: Alicante Costa Blanca
Altitude: 434
How to get here:

The town is connected to Valencia (100 kilometres away) and Alicante (60km) by National Road 340. There is regular bus service to both cities, and a regional train to Valencia.