Towns and cities - Alicante Costa Blanca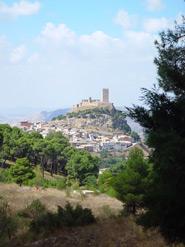 Its natural surroundings, with smooth and leafy forest, combines with the singularity of the monumental fortress. The Castle is from the 12th century and is located over a very well conserved ancient medieval urban centre. Filled with festive and cultural traditions, Biar is full of history. It's an ideal place to relax just strolling around it old quarter and wandering along its peaceful streets.
Address:

Ayuntamiento de Biar
Plaza de la Constitución, 1
03410
Biar
Phone numbers:
Area: El Alto Vinalopó/ L'Alt Vinalopó
Touristic area: Alicante Costa Blanca
Altitude: 700
How to get here:
Biar can be reached by the A-7 Mediterranean motorway, turning off at Villena. Also the CV-799 road from Alcoi, which passes through Ibi, can also be taken.