Towns and cities - Alicante Costa Blanca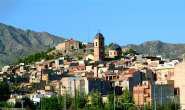 Agost is to be found 18km from Alicante, the capital of the province. Situated at the foot of the Maigmó, the north of the town is to be highlighted for the great value of its landscape, recognised on a European level as a LIC (Community Interest Spot). A large part of the municipal district cultivates dessert grapes, thus forming part of the D.O. (prestigious food and wine product classification) Uva de Mesa Embolsada del Vinalopó (Vinalopó Dessert Pocketed Grape). The pottery is to be highlighted and we can still find ten factories, half of which still continue to use the traditional pottery techniques. The cultural heritage is closely linked to pottery production as well as to numerous festive manifestations of great tradition and popularity.
Address:

Ajuntament d'Agost
Plaça Espanya, 1
03698
Agost
Phone numbers:
Area: L'Alacantí
Touristic area: Alicante Costa Blanca
Altitude: 332
How to get here:
Coming from the N-330, which connects Madrid and Alicante, one takes the turnoff that indicates Agost and links up to the local road CV-820, which leads directly to Agost. Coming from the A-36 motorway, which connects Alcoi with Alicante, one continues until reaching the roundabout that signposts Agost/San Vicente del Raspeig, where we take the turnoff for Agost along the local road CV-820. Coming along the Mediterranean motorway, the A-7, one links up to the A-36 and from there one turns off onto the CV-820.