Towns and cities - Castellón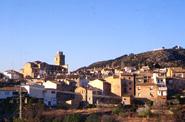 The fresh healthy climate allows Viver all the benefits of the Mediterranean temperature and the environmental advantages of an interior zone. The main part of the population is dedicated to the service sector, which makes any visit an agreeable stay. Its geographical conditions have turned Viver into the source of many springs from which sprout clean and fresh water.
Address:

Ayuntamiento de Viver
Plaza Mayor del Palancia, 1
12460
Viver
Phone numbers:
Fax: +34 964 141 953
Area: El Alto Palancia
Touristic area: Castellón
Altitude: 560
How to get here:
Viver is on the National Highway 234, which connects Valencia with Teruel.