Vilafranca
Towns and cities - Castellón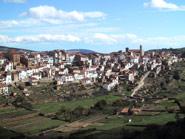 Bordering with the province of Teruel, on a plateau that stands out amongst very rough terrain, is Villafranca, a prosperous municipality that has managed to unite modernity with tradition. The surroundings offer lovers of rural tourism caves, rivers and peaks of over 1.300 meters in height.
Address:

Ayuntamiento de Vilafranca
Avenida de Castellón, 26
12150
Vilafranca
Phone numbers:
Area: Els Ports
Touristic area: Castellón
Altitude: 1125
How to get here:

The CV-15, after Coll d'Ares, leads to the detour that provides access to Vilafranca.