Sant Mateu
Towns and cities - Castellón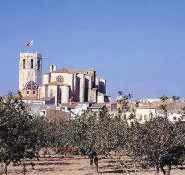 Sant Mateu, the historic capital of Maestrat, in the Costa Azahar, Castellón, bears witness to the important past that can be glimpsed at in every corner of its urban centre, declared an asset of cultural interest (BIC), or in its main square Plaza Mayor. Convents, palaces, churches, walls, shrines and museums bring the knowledge of the cultural and natural heritage, which offers innumerable entertaining activities in contact with the environment, to the visitor. The mediaeval trace of the military orders has been imprinted on the structure of the urban layout and even the solid belfry of the archpriestal fortress-church has continued to keep watch over the passing of the centuries.
Address:

Ayuntamiento de Sant Mateu
Calle Historiador Betí, 6
12170
Sant Mateu
Phone numbers:
Area: El Baix Maestrat
Touristic area: Castellón
Altitude: 325
How to get here:

The principal access routes to Sant Mateu are the CV-10 from Castelln and the N-232 from Vinars. Also the town can be reached from the Sant Mateu-Tirig-Albocsser road, and from Pescola on the Pescola-Benicarl-Sant Mateu road.