Towns and cities - Castellón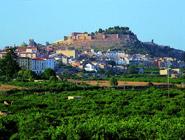 When you visit Onda you sense the bustle of an industrial city combined with the tranquillity of a village steeped in history; you visit one of the principal areas of production and commercialization of ceramics in the world which has centuries of tradition in this craft to show as a guarantee of origin. The cultural setting of Onda consists of three focal points of major interest: el Museo de Ciencias Naturales, el Castillo de Onda, one of the best fortresses of our lands, which houses a magnificent collection of Muslim plasterwork objects on display, as well as el Museo de Historia Local, and el Museo del Azulejo "Manolo Safont", an institution that undoubtedly highlights the tile production of the area.
Address:

Ayuntamiento de Onda
Plaza El Pla, 1
12200
Onda
Phone numbers:
Area: La Plana Baixa
Touristic area: Castellón
Altitude: 30
How to get here:

You can get to Onda by road from the A-7 motorway taking the CV-10 junction. You can also use public transport buses from Vila-real and Castellón.