Towns and cities - Castellón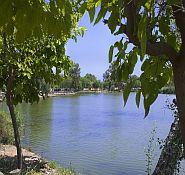 Nules is in prime location amongst other tourist hotspots in the province, thanks to its cultural and tourist attractions which go together perfectly. Its tranquil and quiet beaches mean you can do all types of activities. The historical-artistic heritage has conserved many remains from Roman times.  A legacy that still stands, such as the Roman village of Benicató, the Fortress Walls of Mascarell, the Medals and History Museums and many different religious buildings: the Iglesia de la Inmaculada Church, the Iglesia de la Sangre Church (built in the gothic era of the 16th century), the Convento de los Carmelitas Descalzas temple (18th century) which has a main square with Valencian tiling, and the Capilla de la Soledad chapel (an 18th century rococo style building).
One can't forget the l'estany lagoon, located on Playa de Nules beach, which is the remainder of what used to be a lake, surrounded by a splendid wet area where vast rice plantations are cultivated. Today, it houses many indigenous species and is a stop-off point for flocks of migrating birds each year.
Address:

Ajuntament de Nules
Plaça Major, 1
12520
Nules
Phone numbers:
Area: La Plana Baixa
Touristic area: Castellón