Navajas
Towns and cities - Castellón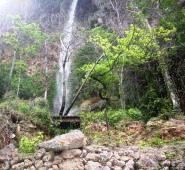 A centenary Smooth-leaf Elm greets visitors to Navajas, situated in the foothills of the "Sierra Espadán", to the right of the Palancia. With all the goodness of the interior Mediterranean, the town was already a holiday location as far back as the XIX century. Situated in a privileged location, Navajas shows a picturesque side in which its Arabic framework contrasts with the interspersed residential buildings. History and nature co-inhabit in this area of the Alto Palencia, in which water is converted into the main protagonist in a setting of outstanding beauty.
Address:

Ayuntamiento de Navajas
Calle Valencia, 7
12470
Navajas
Phone numbers:
Fax: +34 964 71 03 38
Area: El Alto Palancia
Touristic area: Castellón
Altitude: 383
How to get here:
The N-234 has direct access to Navajas, which can also be reached by train on the C5 line.