Regional Archaeological Museum Of La Plana Baixa-Burriana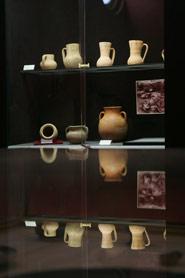 The Archaeological Museum is on the ground floor of the la Mercé Municipal Arts Centre. It is divided into various rooms, where one can see displays and items made of ceramic pottery from Manises, Onda, Ribesalbes and Alcora, and numerous objects from the Eneolithic and Mesolithic periods. The most significant items are a wax casting of a bronze statue of Hermes, as well as various objects from the villages of the region.
Features:

Times: From Monday to Friday from 10 to 14 and from 17 to 20.30 h. On Saturdays from 10 to 14 h and from 17.30 to 20.30 h. On Sunday from 17.30 to 20.30 h. Pre-arranged visits are possible at a convenient time for visitors.