Museo de Historia Natural de Torrevieja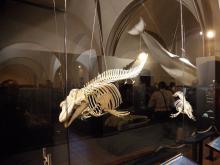 The Natural History Museum is a pioneering initiative in Valencia, whose ultimate goal is to recover all the skeletons of whales stranded on the coast of Torrevieja, providing quality and diversity to the local cultural offer. The staff of the museum is devoted to achieve pieces of great exhibition value, either through mounting the original skeletons or through conducting replicas made of resin. This same work is done with sea turtles stranded in the town beaches.
The museum also includes a comprehensive collection of shellfish from the coast of Zanzibar (Tanzania), donated to the Town Council of Torrevieja by the couple Charlotte and Elbertus Fiege. In addition, the museum is beginning to compile a diverse collection of flora and fauna, typical of marine and terrestrial ecosystems of Torrevieja, and its closest geographical area.
Features:

Times: Temporarily closed.
Type: Museo
Address:

Avenida de la Estación, s/n
Phone numbers: