Fiestas de Moros y Cristianos Jijona 2014
23, 24 y 25 de agosto
Una año más, en Jijona, se celebran las fiestas de moros y cristianos dedicadas a los patronos de la ciudad: San Sebastián y San Bartolomé. Esta trilogía festera está reflejada documentalmente desde mediados del S.XVIII. Cabe destacar el acto más emblemático y diferenciador de las fiestas: el juicio sumarísimo del moro traidor, que se celebra el tercer día de fiestas por la mañana. La "Entrà", las Embajadas y la Retreta son algunos de los actos de las fiestas en las que no falta color, luz, música y alegría. ¡Os esperamos! Además, podrás ver las fiestas en directo desde la página web oficial de turismo www.jijonaturismo.com.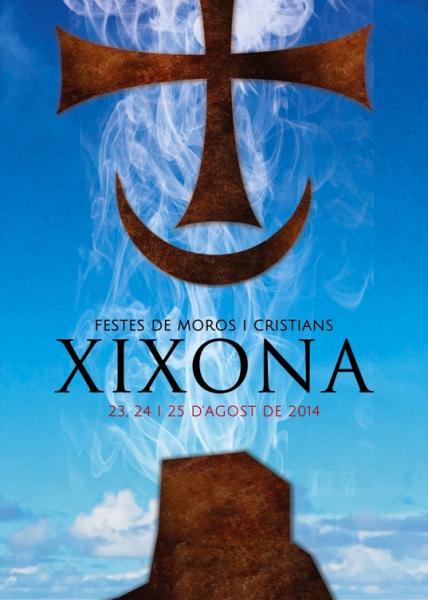 Description:
Programa de fiestas
Dates:

Starts: 11/08/2014
Ends: 27/08/2014
PROGRAMA DE ACTOS:
VIERNES 22 DE AGOSTO. NIT DEL SOPARET
18.00h CAMPEONATO DE COTOS
18.00h ENCUENTRO DE BANDAS, a continuación, desfilada de bandas
A continuación, ENSAYO DEL HIMNE DE FESTES
20.00h DESFILE DELS XIQUETS y Concurso de Cabos de Escuadra Infantil
23.00h NIT DEL SOPARET
SÁBADO 23 DE AGOSTO. 1º DÍA DE FIESTAS
08.00h PRESENTACIÓN DE BANDAS
Al finalizar todas las bandas, INTERPRETACIÓN DEL HIMNE DE FESTES el pasodoble Fiesta en Jijona de Vicente Pla
11.30h LA BANYÀ
18.00h ENTRADA
DOMINGO 24 DE AGOSTO. 2º DÍA DE FIESTAS
00.30h DESFILE NOCTURNO
07.30h DIANA DEL SEGUNDO DÍA
09.30h EMBAJADA CONTRABANDISTA
A continuación EMBAJADA DE LOS PIRATAS
11.00h MISA A SAN BARTOLOMÉ
12.00h SALIDA DE MISA
13,00h KABILEO
17.30 ALARDO
19.30h EMBAJADA DEL MORO
20.30h DESFILE NOCTURNO
23.00h RETRETA
LUNES 25 DE AGOSTO. 3º DÍA DE FIESTAS
01.30h Al finalizar la retreta, actuación GRUPO PLANETA 80en el patio del colegio Eloy Coloma
07.30h DIANA DEL TERCER DIA
9.30h JUICIO SUMARÍSIMO DEL MORO TRAIDOR
A continuación, ENTIERRO DEL MORO TRAIDOR
11.00h MISA A SAN SEBASTIÁN
12.00h SALIDA DE MISA
13.00h KABILEO
17.30h ALARDO
19.30h EMBAJADA DEL CRISTIANO
20.30h ALZAMIENTO DE CAPITANES Y ABANDERADOS DEL 2015 y después DESFILE DE CAPITANÍAS
22,30h PROCESIÓN
MARTES 26 DE AGOSTO
12.00h MISA en acción de gracias
20.00 DANSA
21.30h CASTILLO DE FUEGOS ARTIFICIALES
This office does not assume responsibility for sudden changes or variations of the events published on this site.