Xàtiva shines with the Fira d'Agost
Publishing date 25/07/2017
For several days the streets in Xàtiva are crowed with people arrived from everywhere in the World. The Xàtiva Fair, or Fira d'Agost, was first celebrated in 1250 by special decree of King Jaume I. Important remark: the opening and the closing ceremonies are real events celebrated with magnificent shows at night.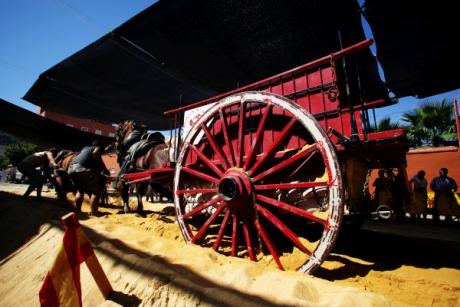 The Fira d'Agost of Xàtiva takes place between 15th and 20th August. For five days in the streets and squares of Xàtiva fair attractions, commercial stalls and cultural activities mix together.

One of the most genuine activities is the Noche de les Albaes (Night of the Albaes), traditional folk song from Valencia, which is held on 15th August at night. A real anthropological treasure which can last well until dawn. Besides, the Festival de la Cançó (Festival of Songs), with more than twenty previous editions represents a bet on the local music and on the Mediterranean culture. The festival offers a wide musical proposal plural which enlivens Xàtiva with music of the most famous singers of these days.

Any other attractive surprises? Theatre, the Fair of Cattle, the draught horse competition known as the Tiro y Arrastre and for the lovers of motorcycling, on 15th July the Trophy of Speed Fira of Xàtiva will take place. One of the more charming contests in the Motorcycling competition calendar! By the way, we do not forget about the Mediaeval Market. Stroll by the Alameda through the colourful mosaic formed by hundreds of traditional stalls. It is an experience you will not forget.

Treat yourself to a varied repertoire of aperitifs and refreshments to cool down, ranging from home-made aigua-llimo (lemonade) to the most innovative inventions! And visit the place of the fresh prickly pears, where his owner serves them as only in the Fira can be tasted, with a job inherited from his parents and grandparents.
Xàtiva shows by its monuments the preeminent place it had in History. Its magnificent castle is open waiting for your visit!