Eating, drinking, pedalling… in Marina Alta
Publishing date 2/12/2013
One destination and lots of fun. Take a few days to discover the exquisite cooking, the fragrant wines, the beautiful townhouses and the hiking and mountain biking trails in Marina Alta thanks to Tot Vall de Pop, a series of events that will allow you to enjoy a valley that has it all. Hiking, eating, drinking or pedalling… come and have fun at Vall de Pop, where there is always something for everyone!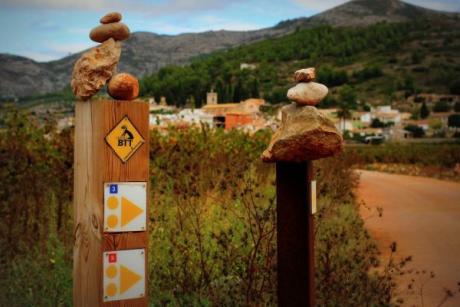 The Tot Vall de Pop sessions are back for their fifth edition, from December 1 to 8, with new proposals to promote the rural lodgings and cultural, culinary, natural and winemaking attractions of this privileged valley in Marina Alta. You'll find what you're looking for in any of the towns in Vall de Pop, such as Alcalalí, Benigembla, Murla, Senija, Parcent and Xaló.
The visits to cellars with wine tastings and the special menus with traditional cuisine prepared with local products are the core of these sessions, which also include leisure activities. In fact, one of the main new features of this edition is the motorcycle rally held on Sunday, December 1st. December 6th will hose the fourth mountain bike march, a cycling event that follows the attractive routes around the river Xaló.