Signature handicrafts in Xàbia
Publishing date 2/12/2015
From the beginning of this month, signature handicrafts are back again in Xàbia. Every Saturday morning, from 11 am, dozens of craftsmen wait by their stalls in the Post square (Plaza Marina Alta) offering a wide variety of products ―from wooden toys to silver jewelry, from leather purses to crochet caps. Everything is handmade by the own participants. There is no trace of factories, no sign of importation. From time to time there are also natural cosmetics, almond cheese, pies and jams. The offer can change from one week to another, as many craftsmen participate in different shifts.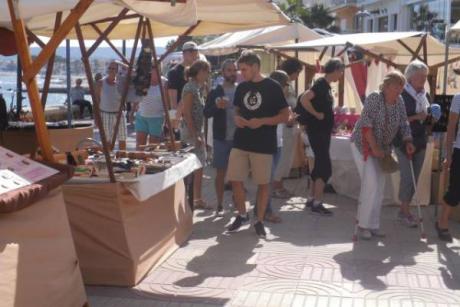 Many artists have offered to come by and liven the place up without asking anything in return. Visitors were invited to participate and help by the elaboration of the famous and traditional turrón a la piedra with simple ingredients such as almond, sugar, cinnamon and lemon peel. Some other time, it is possible to enjoy puppet theatre or dance swing with the members of Lindy Hop Project "Spirit of St. Louis" from La Marina. You may combine a visit to the fair with a walk through the historical centre of Xàbia, with its narrow streets, picturesque squares and a wide offer of bars and cafes. Only a few meters away stands the old market hall, which welcomes a cooking contest for young cooks that will last for four Saturdays in a row and will come to an end in December. On Sunday morning, the fair becomes a new reason to come by and walk by the seaside and the harbor, only to after have a drink in any of the bars or cafes you may find through the streets of this district. You may also want to visit the modern church, the Iglesia de la Mare de Déu de Loreto, a structure made of concrete with the shape of a ship. On Sunday, 13th of December at 5 pm, there will a charity concert (for Cáritas) full of Christmas carols carried out by Montgó Corale and under the watchful eye of Gordon Lawson.

You will find different kinds of signature handicrafts in Xàbia or, despite having each one their own style, by any of the succesful Christmas markets in Valencia Region. In the province of Alicante, we could mention some markets that have already confirmed their dates, such as the ones in Alicante, El Poble Nou de Benitatxell, Los Montesinos, Teulada - Moraira or Xixona.