15º Feria del Aceite y productos agroalimentarios

La Cooperativa de Viver, en colaboración con el Ayuntamiento, celebra el próximo fin de semana 31 de mayo y 1 de junio, la XV edición de la Feria del Aceite y Productos Agroalimentrarios. Un año más, el Parque de La Floresta, será el escenario de este encuentro, donde el aceite de oliva virgen extra, que elabora la cooperativa de Viver, y un sinfín de actividades para mayores y pequeños serán los protagonistas.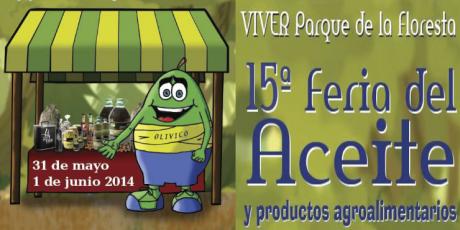 Description:
City: Viver
Ferias y Congresos
First edition: 2009
Dates:

Starts: 31/05/2014
Ends: 01/06/2014
Address:
Parque de la Floresta
City: Viver
La feria estará abierta de 10:30 a 14:00 h. y de 17:00 a 21:00 h.
El programa de las actividades que se realizarán es el siguiente:
SÁBADO 31 DE MAYO
11:00 h. Recepción de Invitados en el Ayuntamiento.
11:00 h. En el Rincón del Niñ@: Concurso de dibujo "Dibuja la Feria" y Taller de Manualidades con materiales reciclados.
11:30 h. Inauguración de la Feria a cargo de Ramón Mampel, secretario de La Unió y miembro de Slow Food.
13:00 h. Presentación de la Tapa Feria de Viver 2014.
13:30 h. Inauguración de la Exposición Fotográfica "El árbol de la memoria de la agricultura familiar".
17:00 h. En el Rincón del Niñ@: Taller de cosmética y maquillaje.
17:30 h. Concurso infantil de elaboración de ajoaceite.
18:30 h. Maratón de hacedores de pulseras. Preparación para Libro Guinnes.
19:30 h. Entrega de trofeos a los jugadores más "cooperativos" del C.D. Viver.
23:00 h. Noche de Ronda. Actuación de María Lizondo y Nestor Zarzoso.
DOMINGO 1 DE JUNIO

10:30 h. Campeonatos de ajedrez, guiñote y parchís.
10:30 h. Concentración intercomarcal de Zumba.
12:00 h. En el Rincón del Niñ@: Cuentos y Canciones populares "Cantacuento".
12:00 h. Demostración de cocina con Germán Carrizo y Carito Lourenço. Responsables de cocina en El Poblet Restaurante y Vuelve Carolina.
16:30 h. Visita guiada al pueblo y a la Cooperativa.
17:30 h. En el Rincón del Niñ@: Taller de Radio.
18:00 h. Concurso internacional de lanzamiento de huesos de aceituna.
19:00 h. Exhibición de Sevillanas por Aires de Triana.
19:45 h. Entrega de premios.
20:00 h. Clausura de la Feria con la actividad colectiva "Ponme la mano aquí..."
Information compiled by:
TOURIST INFO CASTELLÓN (eng)
Plaza de la Hierba s/n, s/n
12001 Castellón
Phone: 964358688
Fax: 964358689
Email: castellon@touristinfo.net
This office does not assume responsibility for sudden changes or variations of the events published on this site.